Our capabilities:
Service & Refurbishment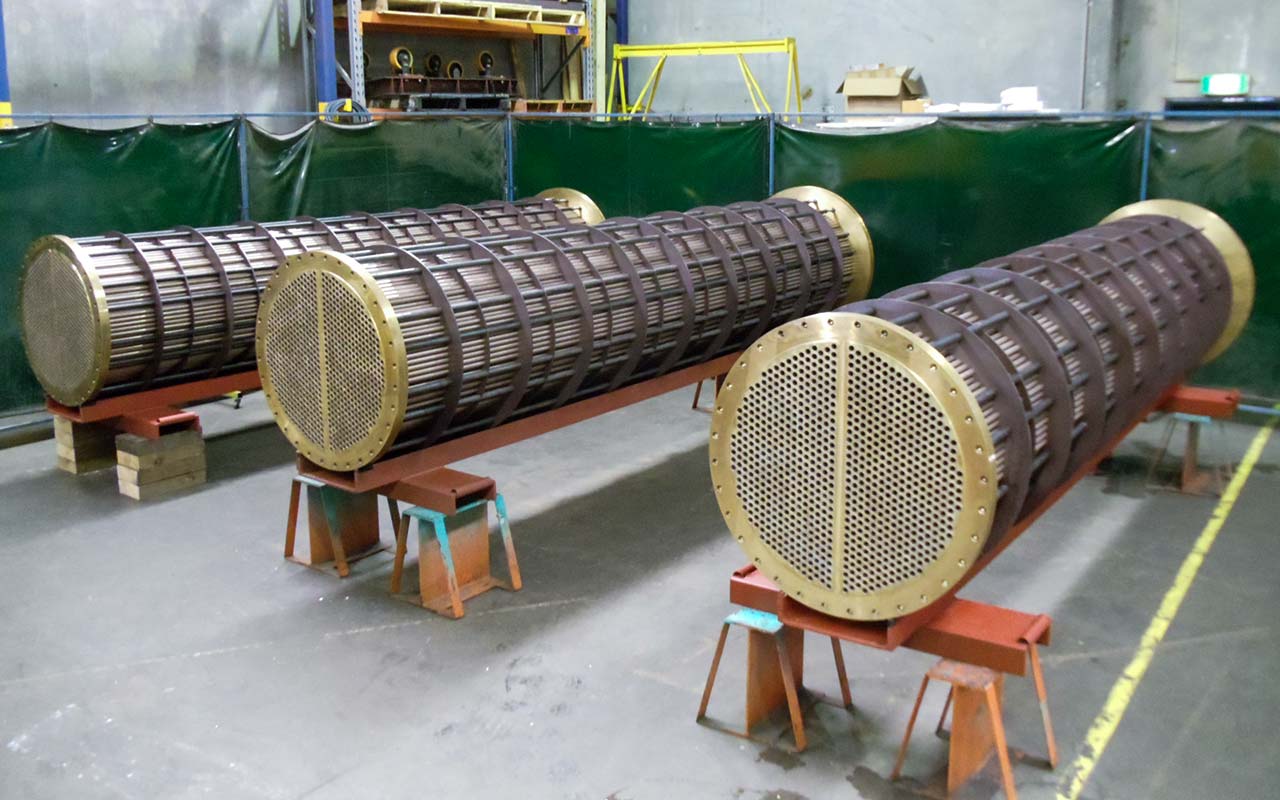 Keeping your Critical Infrastructure running smoothly
Extran's service workshop aims to prolong the usable life of the heat transfer equipment sent to us by our customers and provide a one stop heat transfer maintenance centre for all your heat exchanger needs, so we can keep industry moving.
We clean, repair, re-build, modify and replace Heat Transfer equipment that has seen better days. Send us your worn out equipment and Extran will inject new life into it.
All work carried out at our workshop is in accordance with written work instructions as per our AS 9001 accreditation and testing is in accordance with the Australian Standard. The design capabilities we have within our company means that we can calculate the effect of changes that we might have to make when repairing. This design check information is important for making the decision to repair or re-build.
We understand that it is not always feasible to remove an exchanger from service and send it to a workshop for cleaning and servicing. Therefore, Extran will send out an experienced, specialist crew to refurbish and service your Heat Exchanger on site.
During the refurbishment stage many changes can be made to your equipment that will improve the performance & prolong the usable life of your equipment.
Tube can be supplied in all materials from Carbon Steel, Stainless Steel, Duplex, Nickel Alloy, Copper, Brass, Bronze Alloys, Aluminium, right up to the higher grades of Titanium.
Mono-metal finned tube can be supplied in the low and high fin configuration from any of the materials listed above.
By-metal finned tube can be fabricated using any base tube material needed for the application, with fins being either tension wrapped ("L" and "LL" fin), embedded ("G" fin), extruded ("E" fin), high frequency welded and fixed using a soldered or galvanising method.
Another form of tube available is the square or rectangular finned tube, with the base tube supplied in a round or oval shape.
Fan spares can be provided for fans from 200mm diameter right up to 12,000mm diameter, consisting of full Fan Assemblies, Fan Blades, Fan Hubs, Tip Seals and Hub Air Seals.
Other Air Cooled Heat Exchanger spares include Fan Shafts, Bearings, Pulleys, Belts, Header Box Plugs & Gaskets, Inlet Bells and Vibration Switches.
Plate Heat Exchanger spars, such as Plates and Gaskets can to supplied for most major brands, in both Stainless Steel and Titanium.
Experience includes
• Steam Condensers
• Hydrogen Coolers
• Lube Oil Coolers
• LP & HP Boiler Feed Water Heaters
• Engine Air Coolers
• Shell and Tube Heat Exchangers
• Plate Heat Exchangers
• Air Cooled Heat Exchangers
• Heat & Cooling Skids
• General Industrial & HVAC Coolers